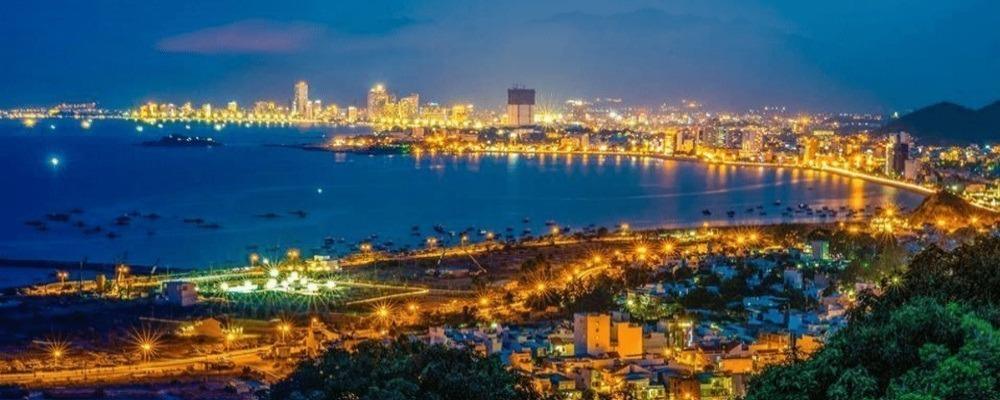 Nha Trang city is a resort town in Vietnam's Khanh Hoa province, on the Bay of Nha Trang with its 4-kilometre-long beachfront. The city has a population of about 500,000, located 1,280 km from the capital Hanoi, 200 km from Phan Thiet (Muine) and 448 km from Ho Chi Minh (Saigon). The economy relies heavily on tourism but also has a sizeable fishing industry and shipbuilding. Cam Ranh International Airport (CRX) is 30 km away from Nha Trang, and serving both domestic and international flights. Nha Trang – Wikipedia
Nha Trang Bay is considered to be one of the most beautiful bays in the world with its 19 islands of varying sizes, making it an ideal beach holiday destination. The city attracting large numbers of foreign tourists as well as being very popular with Vietnamese tourists. Beautiful beaches, tropical lush nature, transparent sea water suitable for diving, and good warm sea temperature all year round make the city one of the most popular beach tourism destinations in Vietnam. Nha Trang has a tropical climate with mostly dry and rainy January to August, with typhoons mainly from September to December. The average annual temperature is 29°C and the coolest time is January with a maximum temperature of 24°C.
The Nha Trang city was formerly part of the Champa Empire, and known as Kauthara. The name of the city is derived from the Champa name Ya Trang (Red Legal VN: Cai River). In recognition of this religion and cultural centre, the ancient temple of Po Nagar, dating back more than 1200 years, still stands in Nha Trang.
Legend has it that Yang Ino Po Nagar (Lady Po Nagar) originated in the same mountainous province of Khanh Hoa. Lady Po Nagar sailed to China and married the son of the Chinese Emperor and together they later established the Champa state where Lady Po Nagar became the first Queen of Champa. Since 1698, the territory has officially belonged to the Viet Namese where, until the 16th and 19th centuries, the urban areas of Nha Trang were covered with thick jungle, and rich in fauna. During the French colonial era, the beach was transformed into a perfect beach which was slowly being adapted into a resort town. For American soldiers, Nha Trang city was the preferred holiday destination in the war time.
Read more: Mui Ne beach