VACATION RENTALS & HOMES for SALE
AIRPORT ↔ HOTEL TRANSFERS
TRAVEL IDEAS & PRIVATE TOURS
LANDING VISA SERVICE
AFTER THE TRIP
ESTABLISHED IN 2008
MODERN VEHICLES
BEST TOUR GUIDES
TIMELY COLLECTION
PAY TO THE DRIVER
MUI NE VACATION & TOURISM GUIDE

The socialist Republic of Vietnam is the easternmost country on the Indochina Peninsula in Southeast Asia. With an estimated 90.3 million inhabitants as of 2012. The country is bordered by China to the north, Laos to the northwest, Cambodia to the southwest, and the South China Sea to the east. Its capital city has been Hanoi since the reunification of North and South Vietnam in 1976. Mui Ne (Bai Rang or Rang Beach) in Binh Thuan province. Binh Thuan is a coastal province of South-Central Vietnam with over 192 km of coastline, natural area 7849 km2, a population of over a million people of many different ethnic groups lives. Mui Ne Rang Beach is the fastest developing resort in Vietnam and Vietnam's premier beach resort destination, located 15 km northeast Phan Thiet city, on the shore of South- China Sea.
Mui Ne described by the locals as the beach that is nestled in the middle of a coconut palm forest. Around 300 years ago fishermen from neighboring areas settled here to fish and produce the nowadays world-famous fish sauce. Tourism started in the area around 1990 as it was the best place in the world to witness eclipse. Nowadays it's full of luxury resorts, hotels, restaurants, beach bars, shops and everything else required for a perfect holiday. It's worth mentioning that Muine is ideal place for kite surfing as we have ocean breeze for 300 days in a year. It's a perfect place for relaxing, swimming and sunbathing around the year.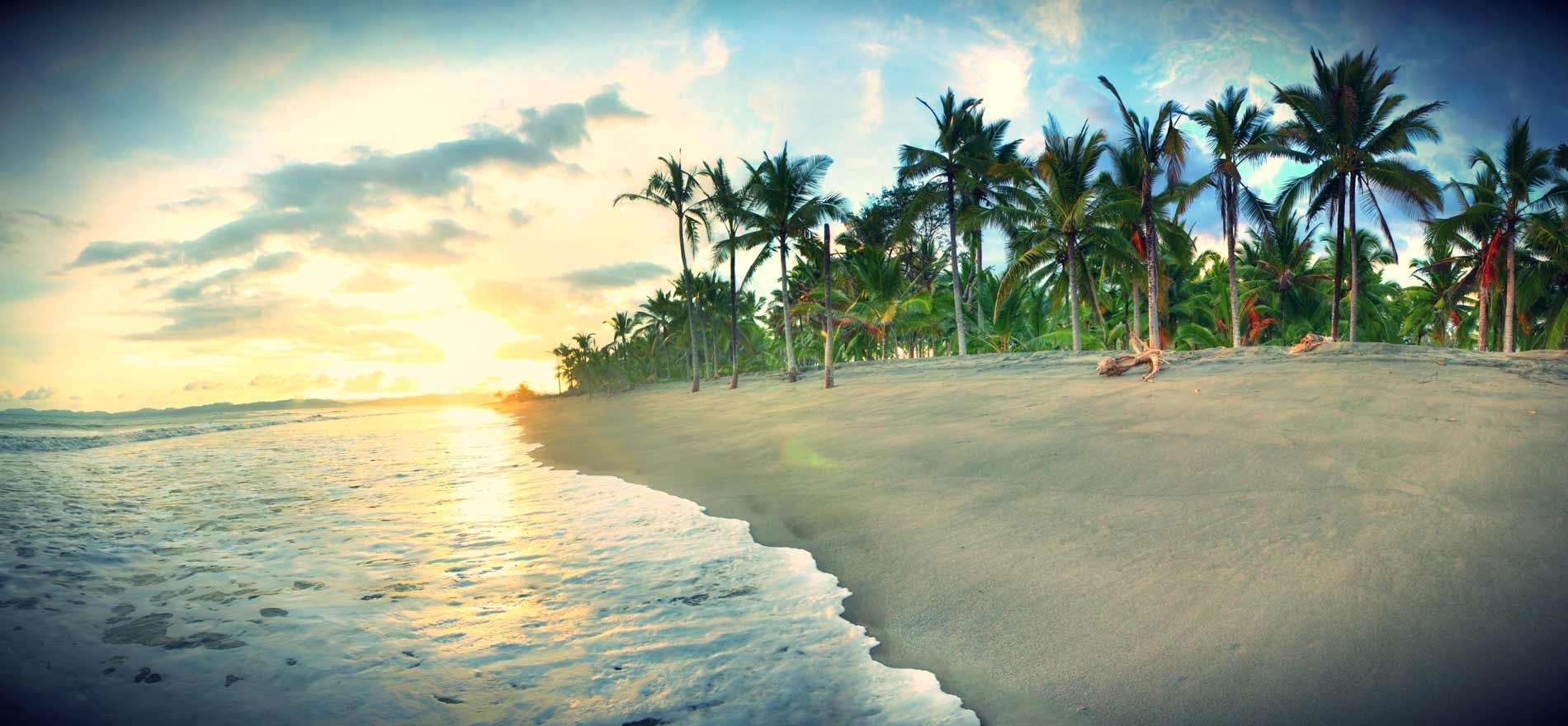 MUI NE is safe enough to walk around in night time. In this area there are lot of restaurants, beach bars, spas, hotel resorts, etc everywhere you go. Staff speaks usually English, Russian and sometimes French. Menus in restaurants are in English and Russian.
WEATHER: Mui Ne weather is best from December till February when there's constant cool ocean breeze and air is dry. From March till June it's hot and dry. April is the hottest spring month with mid-day temperatures averaging up to 35C (95F). From June till November is rainy season with splashes of rain after the sun has set. Morning time is the best time for swimming as wind rises before noon time and creates waves.
TRANSPORTATION: Cheapest mode of transportation is local bus which can take you directly to Phan Thiet City. Xe om (motorbike taxis) are available everywhere, but prices have to be negotiated. Taxis are available but make sure to use the ones with taximeter. If there's more of you than one, taxis are a cheap way to get around. If you stay in Mui Ne for more than a week, best mode of transportation is still a motorbike. Traffic rules and practices are uncommon for most foreigners. Most important rule is not to hit other vehicles and to forget all other traffic rules. Drive slowly in the middle of your lane, as left side and also a portion of the right side of the road is for upcoming traffic.
MEDICAL AID: Quality medical aid, emergency rooms and hospitals are available everywhere Phan Thiet and Mui Ne beach. Bigger hotels have their own doctors on call. If you have insurance and you are in a need of medical aid, make sure to contact your insurance company to find proper medical facilities covered by the insurance policy.
CURRENCY: Preferred currencies are US dollar and Euro. You can withdraw cash from ATMs, which are plentiful around Mui Ne. ATMs give 1.500.000 – 2.000.000 VND in one transaction. You can pay everywhere in VND or USD.
SAFETY TIPS: Beware of pickpockets in large cities in Vietnam such as Ho Chi Minh City, Hanoi. Where there are large concentration of people especially with lots of foreign tourists, pickpocket seems inevitable, it has to be said. Places need special attention are the popular open-air markets, bus and train stations, popular tourist destinations where the locals even disguise as tourists and the popular shopping malls in the city. Do not carry your bags behind your back. Carry them in front of you so that you are aware of what is going on. Ladies should NOT carry expensive handbags as they can easily be snatched by moving motorcyclists. You can leave your passport, identity card and any important documents at hotel's safe deposit boxes.
ABOUT US
We are a small group of people living in Mui Ne for years. We are actively working in tourism industry since 2008 and would like to offer our services in making Your stay in Mui Ne as pleasant as possible. Take a look at what we can offer to you and do not hesitate to contact us if you have any questions or if you would like us to tailor something for your specific needs.
AIRPORT & HOTEL TRANSFERS IN VIETNAM
By booking Liveinmuine private transfer you'll get a door-to-door transfer service, wherever you are in the VIETNAM. Whether it's an airport, port, train station, town or city, hotel or private address, we can arrange a vehicle to pick you up and drop you off.
Just tell us where and when you'd like to go, whatever time day or night. Our cars and minivans could be available to suit all your needs for a day out.
TOYOTA INNOVA
TOYOTA FORTUNER
TOYOTA HIACE
FORD TRANSIT
TERMS & CONDITIONS
1.1) All information received via e-mail or forms will be deemed private and will never reach any other person outside our company – we will never share your information with any third party.
SERVICE PROVIDER'S OBLIGATIONS
2.1) to provide to customers air-conditioned, modern, clean and comfortable vehicles, with well groomed, courteous and thoroughly trained drivers. We guarantee that ordered vehicle(s) are in agreed upon place at the agreed upon time.
3.1) to be at the agreed upon location at the agreed upon time for the pickup. If you need more time for customs clearance, visa on arrival, etc, it can be requested in the booking form (pick-up time).
BOOKING TERMS AND CONDITIONS
4.1) Cancellation or change requests can be made only by email to liveinmuine@gmail.com. Transfers can be cancelled or changed without any penalties, at least, a day prior to transfer but not after 5 PM. (ICT – Indochina Time). After 5 PM all bookings for the next day are completed.
4.2) For journeys booked from Airports, Train Stations, and Seaports, it is the passenger's responsibility to locate the driver or vehicle and not the driver's to locate the passenger, on booking any such journey we will give a specific pick-up point that the passenger must locate. Any failure on the passenger's part to locate the vehicle or driver will result in a charge to the customer.
The amount to be charged in such situations (4.1 and 4.2) will be decided by Liveinmuine.com depending on the pickup distance/place/driver expense/parking and other charges.
4.3) If you cannot locate the driver, MISSED a flight or your flight has been delayed, please, contact us immediately. We provide all emergency contact numbers with our confirmation. We will endeavour to make all possible arrangements for you to be collected at a later time (free of charge). In case, if your arrival time delayed to next day we will have to charge extra of $20.00 US for the driver.
4.4) It is the passenger's responsibility to ensure that they reserve or book the correct size of vehicle, in order to carry the number of passengers and luggage. The vehicle capacities are stated on the website of www.liveinmuine.com. If the passenger has booked a smaller vehicle capacity to carry the number of passengers and luggage, the driver reserves the right to refuse to carry the passengers due to Health and Safety rules. However, the passenger is liable to pay the full fare to the driver.
4.5) Liveinmuine.com does not guarantee driving time duration, and we are not responsible for any other financial losses caused in connection with driving time. Make sure you spare enough time for the trip, especially if you're going to an airport. Take into account possible traffic jams, roadworks and obstructions. We also advise you to take 2 hours extra time for airline check-in.
4.6) Liveinmuine.com is not responsible for any loss or damage or stealth of the passengers' property (i.e. goods or luggage or any other) and/ or any other financial losses caused while loading and/or unloading and/or in the vehicle operated by us or our sub-contractors. Although we are pleased to help you, the passenger is responsible for any valuables/ treasures. For your own safety please take travel- or other necessary insurance. Do not leave vehicle/goods unattended while driver is away from the vehicle for any reason.
4.7) All misunderstandings and failures to comply with terms and conditions of service from either the customer or service provider will be discussed in order to reach an agreement. Failure to reach an agreement between two parties may end in legal action. All contractual obligations and legal issues will be handled according to Vietnamese laws.
FREQUENTLY ASKED QUESTIONS
Why would I use LiveInMuiNe Taxi transfer?
Our service takes all the hassle out of getting to the airport, hotel or residence. LiveInMuiNe transfer will take you door-to-door, servicing every flight every day, we operate 24/7. The condition and care of our vehicles add to your enjoyment of your journey, so all our vehicles are clean, modern, well- maintained, and checked daily. Book with a tap of your smartphone, ride safely and comfortably with our professional drivers and pay directly to the driver after the trip. Let us help you relax on your trip to Vietnam.
Can LiveInMuiNe transfer take me to the airport at any time of the day?
Yes, we operate 24/7. We service every flight every day!
Will anyone else be sharing my transfer?
No, we only provide private transfers. The vehicle is used solely by your party during your transfer.
Can I book a shared transfer?
No, we only offer a private transfer service.
DALAT (DLI) AIRPORT TRANSFERS TO DALAT, MUI NE or NHA TRANG.
CAM RANH AIRPORT TRANSFER TO MUI NE OR NHA TRANG CITY.
HANOI (HAN) AIRPORT ARRIVAL / DEPARTURE TRANSFERS.
HCMC (SGN) AIRPORT TRANSFERS TO MUI NE, VUNG TAU OR SAIGON
VUNG TAU TAXI TRANSFERS TO MUI NE, PHAN THIET OR HCMC (SAIGON).
DALAT TAXI TRANSFERS TO DALAT AIRPORT, MUI NE OR NHA TRANG.
NHA TRANG TAXI TRANSFERS TO CAM RANH, DALAT, MUI NE.
MUI NE TAXI TRANSFERS TO CAM RANH, DALAT, NHA TRANG, SAIGON.
SAIGON TAXI TRANSFERS TO (SGN) AIRPORT, MUI NE OR VUNG TAU
VIETNAM VISA APPROVAL LETTER - VISA ON ARRIVAL

Vietnam visa upon arrival is most likely the easiest way to obtain your Vietnam visa. All you need to do is send us details of your passport and flight. Then we will arrange approval letter for Vietnam visa based on your request.
After two working days, we will send you a copy of the approval letter. "Visa Approval Letter" which allows you to pick up your visa upon arrival at any international airports in Vietnam.
A lot of websites have a huge range of accommodation OPTIONS offered in Mui Ne. On our site selection is small and you don't have to search for a long time. We offer accommodation from bungalows to long-term Villa Rentals.
PRIVATE TOURS & EXCURSIONS AROUND MUI NE

Tired of sitting around on the beach? We organize Trips & Tours to most interesting places around Mui Ne and beyond. Every tour is private and your guide will spend time only with you and the people you're traveling with.
WHAT OUR CUSTOMERS SAY ABOUT US?
We're really proud of the relationships that we've built with our customers over the years and our reputation for excellent service means we have many satisfied customers. Feedback is essential to maintain and continuously improve our service. Have a look at what our customers say.
Greetings from Cham Villas Sorry to take so long in getting back to you we have been very busy doing nothing, guess that is what holidays are about. You driver was very good picking us up at the airport and at the Hotel in Saigon. His driving was excellent and we look forward to our driver that picks us up on Sunday Morning here at Cham Villas. Cheers
JIM / JULY 22nd 2016
PRIVATE TRANSFER FROM HCMC TOWN HOUSE 23 - MUI NE CHAM VILLAS / TOYOTA INNOVA
Super service and nice driver!! Thanks
NIELS / JULY 17th 2016
TRANSFER FROM SAIGON LE MERIDIEAN HOTEL - VICTORIA PHAN THIET RESORT & SPA / TOYOTA INNOVA
Thank you for we had a great experience yesterday. Will introduce yr company to friends.
CHRIS / JULY 8th. 2016
TRANSFER FROM FUSION SUITES SAIGON - MUI NE VILLA ARIA / SAND DUNES GUIDED TOUR / TOYOTA INNOVA & JEEP
Yesterday we successfully used the below service and we were very happy with it.
PATRIK / JUNE 29th 2016
TAXI TRANSFER FROM HO CHI MINH REX HOTEL TO MUI NE FULL MOON VILLAGE / TOYOTA FORTUNER
We were very happy with our car ride from Saigon to Mui Ne on the 17th. The driver was courteous and helpful and a good driver.
LINDSAY / JUNE 19th 2016
TAXI TRANSFER FROM HCMC SKY GARDEN 1 - MUI NE HERBAL SPA HOTEL / TOYOTA INNOVA
The first two transfers went very smooth. Thank you for organizing this.
ANTONIUS / JUNE 19th 2016
TAXI TRANSFER FROM THE REVIERE SAIGON - VUNG TAU BINH AN VILLAGE & VUNG TAU - MIA MUI NE RESORT / TOYOTA INNOVA
I just want to thank you for the wonderful service, and for accommodating our requests to change pick up timing again and again, esp for Mr Trung's patience. It happened that I was robbed along the street in HCMC last night and my money, passport and mobile were all snatched by the motorcyclists. I had to go to my embassy and Vietnam immigration department this morning, hence the changes.
SYLVIA / JUNE 14th 2016
TAXI TRANSFER FROM REX HOTEL HCMC - PRINCESS D'AM NAM RESORT / TOYOTA INNOVA
Hi Indrek/ Mr.Trung, The two rides are very good and we really appreciate your service. ( pass our thanks to the driver too.) Thus, we'd like to continue to use your service for this trip and in future.
NICHOLAS / JUNE 11th 2016
HCMC AIRPORT TRANSFER to MUI NE VILLA ARIA & WAY BACK to HOTEL DES ARTS SAIGON / TOYOTA FORTUNER
The driver that brought us yesterday to Mui Ne was very good and courteous! Thank you for that!
ZAHID / MAY 31st 2016
HCMC AIRPORT ARRIVAL TRANSFER to MUI NE PANDANUS RESORT / TOYOTA INNOVA
Thank you for a wonderful service.
ANASTASIIA / MAY 29th 2016
ROUND-TRIP TRANSFER FROM HCMC AIRPORT - SEA LINKS CITY BEACH HOTEL / TOYOTA INNOVA