Holiday ideas, travel news & videos
PHU QUY ISLAND
Lying in central Viet Nam, about 103km from Phan Thiet city, Phu Quy district is an ideal tourist destination for holiday-makers as it houses 10 small islands, with Phu Quy Island being the biggest in pristine condition. Every day there is a ship leaving the port in Phan Thiet city to bring locals and visitors from the mainland to Phu Quy, with fares costing between VND150,000-200,000 each. There is also a high speed boat to the island, and the service cuts the travel time by half, just two hours, with fares costing around VND330,000. Phu Quy is famous for its natural beauty and tasty foods. Despite the long voyage, the tour of Phu Quy and nearby islands still attracts many visitors as a Vietnamese saying goes "High mountains can't barrier lovers". The island district has a total area of 32sq.km. It has an abundant source of seafood, making its Binh Thuan province the second largest fishing area in Viet Nam. Phu Quy is like a generous host that would try to compensate for visitors after a long journey. Its foods are fresh, tasty, cheap and weird. They include "Moon crabs" that have red spots on the back, and "King crabs" that have a better quality than in other areas.
The district also offers steamed or grilled lobsters that can make a visitor's tongue really "numb". There is a buffet from snails which are soft, sweet, and fat. Fish buffet is another feast that eaters can't forget, with enough boiled, grilled, fried, steamed fish, cooked porridge, fish soup, and fish rolls which are always extremely tasty. Visitors would be surprised by the wealth of the islands. All the roads are wide and asphalted. Basaltic soil makes fruit trees luxuriant, including the mango and guava that have sweet tastes thanks to the climate and soil characteristics. "Anything in Phu Quy is fresh and surprisingly cheap, from seafood to fruits and meals," says Nguyen Lam Anh, a visitor from HCM City, adding that it is a real joy to rent a motorbike to tour around the island. "We should also get up early to catch the sunrise and wait for the fishing boats to come back.
You may feel blackouts with all sorts of sea produce," he confides. Some visitors have fun going on a boat to floating houses to learn how to feed fish and crabs, and have lunch there. Another destination in the district is Linh Quang pagoda, built in 1747 with the sacred ancient Buddhist statues. Van An Thanh Temple was built in 1781 to worship Nam Hai (East Sea) Spirit and exhibit a 20m-long whale skeleton. The Cao Cat Mountain at the altitude of nearly 100m, with Linh Son Pagoda erected on its top, and the giant boulders cliff is an ideal spot to contemplate the panorama of the islands. The beaches on the island are very beautiful and clean as they are far from residential areas. Despite no big hotels, there are decent rest houses, and local people are friendly, Lam Anh remarks. Tran Ngoc Can, an official from the island district, says Phu Quy is wild and attractive, but local tourism is yet to develop because of poor traffic conditions. "According to our tourism development plan from now till 2015, with a vision for 2020, the island district will boost tourism as a key economic sector. To do this, we are calling for investment to upgrade infrastructure and build more transport ships," he says. But many visitors are happy to explore wild nature on the island. "We visit the islands to wash lungs and eyes, and more importantly to get rid of trouble from city life," says Lam. Source: VOV / 2014
AN ESCAPE ROUTES: CON DAO, CAT BA, PHU QUOC, CHAM ISLAND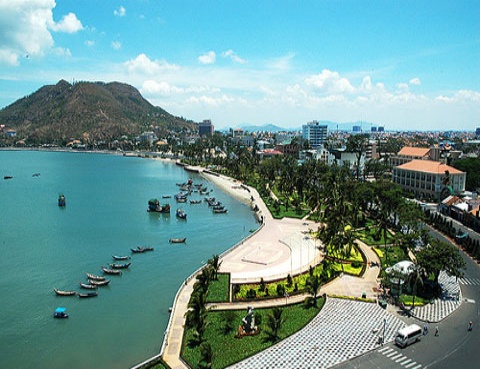 Away from the bustle of the mainland, on islands that were once hell on earth for thousands of prisoners, tranquillity now reigns. Vietnam is very densely populated. With most of its 90 million people living along a narrow coastal strip, it's all too easy to experience the country through a blur of exhaust fumes, struggling along Highway 1 and stopping off at the most popular towns and cities along the way. As it's a lot to take in, you would do well to factor in time away from the mainland, on one of the country's beautiful islands that are fast attracting visitors. In the north, the Ha Long Bay area has more than 2,000 craggy limestone islets, but you need to choose your boat trip carefully as the Unesco-listed region is wildly popular. So it's worth investing a little time to explore the less-visited, outer islands. Off the central coast, the Cham Islands are a great day trip from historic Hoi An, while in the deep south, Phu Quoc is developing fast but has a lush interior and unspoilt beaches. For the ultimate escape, however, my pick would be remote Con Dao, with a fascinating history and empty beaches.
CON DAO
The Con Dao islands have an utterly unhurried ambience. "There are two traffic lights, but no work," the bike rental guy said apologetically as he gave me the island rundown. "One gas station, but close for lunch. Only one road, so you no lost. Right to airport or left to prisons and port." Moped key in hand, I was relishing the chance to get out and explore some empty roads in search of a perfect beach for the day. I'd spent the previous week embracing Vietnamese city culture and its furious energy and commerce, but was now in need of some serious hammock time. A cluster of 16 islets in the South China Sea, the Con Dao islands are 155 miles from Ho Chi Minh City. Only the main island, Con Son, is inhabited (its population is just 6,000), though the other islands can be visited. Once hell on earth to thousands of prisoners incarcerated by French colonists and the American military, today the Con Daos are blissfully tranquil. With their ravishing sandy bays, rainforests and healthy coral reefs, their tropical appeal is easy to grasp. Flight connections used to be atrocious, but Vietnam Airlines now offers three daily flights from Ho Chi Minh City (£52 one way).
The rental guy had lied about the one road. Easily sidetracked, my Honda and I had chanced upon a rough track close to the airport, and our inquisitiveness had rewarded us royally in the form of Dam Trau beach, a sublime half-moon crescent of pale sand, bookended by forest-topped rocky promontories. After an hour's snorkeling, exploring the kaleidoscopic coral teeming with macro life and spending five minutes swimming eye-to-eye with a hawksbill turtle, I retreated to the plastic chairs in the bay's seafood shack, picked a victim from the live fish tank and gorged on crab with tamarind and chilli. The only other diners were a group from Hanoi, employees of a state-owned bank on a corporate jolly-with-a-purpose. Vietnam is a country steeped in revolutionary rhetoric, and Vo Thi Sau, a teenage resistance fighter executed in Con Dao during the French occupation, fits the bill perfectly. (She killed a captain in a grenade attack at the age of 14, and wasn't captured until years later.) The bank staff were here to pay their respects to this national heroine, and to the thousands of others who lost their lives in Con Dao's 11 prisons. Ghosts are everywhere in Con Dao, nowhere more so than at Phu Hai jail. Built in 1862, it once housed 20,000 prisoners – political and criminal inmates chained together naked in rows. The really troublesome individuals were kept in "tiger cages", with six to 10 men crammed into a tiny open-roofed enclosure, beaten with sticks from above and dusted with lime and water (which burns the skin). Unbeknown to the world, the Americans continued operating these tiger cages until 1970 when a Lifemagazine report broke news of their existence, provoking an international outcry. It had been a chastening day, the brutality of prison conditions contrasting acutely with the overwhelming beauty of my surroundings. As I strolled along the seafront promenade in Con Son town, it was easy to marvel at the sheer gentility of this pocket-sized island capital, its litter-free streets, French-era villas, well-kept municipal buildings and air of calm and prosperity.
Con Son town has a dozen or so hotels and guesthouses, a short ride away to the north, really is in a class of its own. Occupying the island's best beach, it comprises 50 or so ocean-front, timber-clad beach villas, each fusing contemporary style with rustic chic. The next day I dropped by the National Park offices just outside Con Son town. The islands' ecosystems are unique, with 11 trees found nowhere else in the world. It's thought that a dozen or so dugong, or "sea cows", remain in the waters around Con Dao, though they are extremely elusive. You've a much better chance of seeing sea turtles as the islands are Vietnam's most important nesting ground. The World Wide Fund for Nature has supported conservation efforts to protect the green turtle, and national park rangers run night-time boat trips to neighbouring Bay Canh island (the main turtle-nesting season is May to November). I'd already been lucky enough to snorkel with a turtle, so I fixed up a hike with a ranger instead. Following a slippery but well-marked trail we entered the ever-dripping island rainforest, inching up a mountainside past giant creepers, roots and shoots, picking our way over colossal hardwood buttresses up to the long-abandoned So Ray Plantation, established by the French but now occupied by a sociable troop of long-tailed macaques which are thriving amid the fruit trees planted decades earlier.
On my last day, I hooked up with a Honda again for a ride south. Bicycles are also available for rent from hotels (from £2 per day) and taxis can be booked, though they are quite pricey. We hugged the coastline, buzzing past coves and beaches, the lonely road lined with wild bougainvillaea and the curious aerial-rooted pandan tree. Towering granite cliffs cascaded down to a turquoise sea as we rounded Ca Map point before rolling into Ben Dam, a no-nonsense port preoccupied with the gritty business of Vietnamese life. Here sailors sell giant durian fruit from boats and their decks are crisscrossed with clotheslines pegged with drying seaweed, fluttering in the ocean breeze. I ordered a treacle-thick Vietnamese coffee from a café to fix me up for the return leg and paused to watch ruddy-cheeked, beer-happy men paddle from the shore in bizarre coracle-like contraptions back to their fishing boats moored in the bay. My final stop was Hang Duong Cemetery. In the windy season, bones lie exposed in the sun here when the sandy topsoil is blown away. But today there was just the gentlest of breezes, on which drifted the smell of incense. Following the scent through the flowering shrubs and trees, I was guided to a specific grave, one of the thousands there. Here I found the group of bank workers again, heads bowed, at the tomb of Vo Thi Sau as prayers were offered and thanks are given to a national icon. I found myself contemplating the nature of the modern Vietnamese nation: the long struggle for independence and years of suffering, today's breakneck pace of development, the economic successes and the inevitable growing pains. Here in Con Dao, I enjoyed the silence.
Soc Trang – Con Dao speedboat route launched.
A new speedboat service connecting the Mekong Delta province of Soc Trang and Con Dao Island, off the southern Ba Ria – Vung Tau Province, was inaugurated on July 2017. The service runs on a two-level speedboat purchased from Malaysia at a cost of VND50 billion (US$2.2 million), according to the route operator, Superdong Speedboat JSC. The vessel is capable of accommodating 306 passengers and running at an average speed of 26 nautical miles (48km) per hour. The service from Soc Trang to Con Dao is estimated to take 150 minutes. Passengers in Soc Trang can board the boat at the harbour of the Soc Trang Border Soldier Agency located in Tran De District, and take the board trip from Ben Dam Harbor on Con Dao Island. Ticket costs VND310,000 ($13.6) for adults, and VND230,000 ($10) for children.
VIETNAM'S OTHER ISLANDS. CAT BA
Rugged, mountainous Cat Ba island is emerging as a great base to explore the wider Ha Long region. Most of the island is a national park, with trails that fringe the habitat of one of the world's rarest primates, the cherubic-looking, but highly endangered Cat Ba langur. Cat Ba is also something of an adventure sports mecca thanks to pioneering work by Asia Outdoors, which has established dozens of climbing routes on the spectacular limestone islets that fringe Cat Ba, and also offers all sorts of kayaking and sailing excursions. In Vietnam you're never far from a reminder of the conflict locals call the American War.
Cat Ba's amazing Hospital Cave was used by the North Vietnamese as a safe shelter for the military elite, and has its own operating theatres, a small swimming pool and even a cinema.
Until a few years ago the Cham islands in central Vietnam were a military zone and off-limits to tourism. Times have changed and the islands are now accessible by boat trips (April to September only) from Hoi An. During the main Vietnamese holiday season (July and August) local tour groups can swamp the golden beaches, but after they've departed (around 2pm) normal service (peace) resumes.
There's decent diving, though visibility can be challenging. Try Cham Islands Diving (vietnamscubadiving.com) and Blue Coral (divehoian.com). Make sure to drop by the unusual little temple Ong Ngu in Bai Lang, which is dedicated to the whale and whale shark (regarded as oceanic gods by locals until a generation or two ago).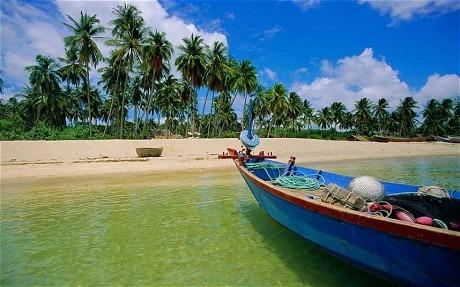 In Vietnam's extreme south, Phu Quoc island is tipped to be the country's next beach hot spot. A new international airport opened in 2012 (daily flights arrive from Ho Chi Minh City) and dirt roads are steadily being paved. Break up the beach-hopping, if you can brave the smell, with a visit to the nuoc mam (fish sauce) factory in Duong Dong, the main town. When to go.  Vietnam has a very complicated climate. The best time to visit the Con Dao islands is between November and March.  Source: telegraph.co.uk
BHO HOONG VILLAGE. BREATHING NEW LIFE INTO OLD LIFESTYLE
Bho Hoong Village on the banks of the Kon River enjoys cool weather all year round, and has amazing scenery. But visitors get their biggest kicks from the direct glimpses they get into the lifestyle, culture and special skills of the village's Co Tu ethnic minority residents. Cong Thanh reports. A Lang Bay, 84, looks years younger than his age when he plays the traditional musical instruments of the ethnic Co Tu. Bay, one of the oldest men in the mountain village of Bho Hoong in the central province of Quang Nam, is adept at playing the six instruments used to create romantic melodies at village festivals. Abel, similar to the Vietnamese two-chord fiddle, is one of the most special instruments for Co Tu people. A bamboo tube is fashioned into something resembling a vertical violin with two strings. Users twang a wire string with a bamboo lath, while keeping the other in the mouth. The best abel player could once lure the most beautiful woman in the village, Bay recalled. "I played abel to express my love to my woman and it fascinated her," he said. "Hosts also traditionally play such folk music to welcome friends." However, few young people today learn how to play these instruments. "Today, such old-fashioned instruments are only seen at traditional rituals and festivals," Bay said. "Young Co Tu people rush out to make money away from home, as hunting and farming offer limited incomes. They have changed their lifestyles to suit modern life, choosing smartphones and modern fashion over old cultural treasures." The music was revived in recent years when the village was developed as a community-based tourism village along with neighbouring Dhroong Village in Ta Lu Commune. Bay and his family members perform at the guol (communal long house) to entertain tourists. The 84-year-old plays khen (pan-pipe), a wind instrument similar to that played by the Mong people but with shorter bamboo tubes, as well as tobheh (monochord), aluot (flute with square holes) and bholua (horn), while the others perform gong, booch (love duets) and dancing. "Playing abel revives my soul and keeps me young. I'm eager to play it all the time," he said.
Mutual benefits
Villagers share the profits with the tour operators: Ha Noi-based Handspan, Hoi An Motorbike Adventures and Rose Travel Service company. "Villagers get VND50,000 each from gong and dance performances, cuisine and accommodations for tourist bungalows," said local guide A Tieng Pai, 25. The tourism site opened in 2008, but was decorated and upgraded to tourist standards in 2013, according to Pai. "We host around 20 tourists each month who come for two-day tours. In addition to exploring the village, they can also take trekking tours around nearby forests and mountains," he said. Phan Thi Hien, manager of Hoi An Motorbike Adventures, said the three travel agencies invested VND2.3 billion (US$110,000) to turn Bho Hoong Village into a tourist attraction. "We signed a 20-year deal with local administration to develop community-based tourism in the area. It has so much potential for tourism, with crafts like brocade, bamboo and rattan weaving that have been practiced for centuries as well as an ancient lifestyle that has been preserved for generations," Hien said. She added that villagers were still hesitant to use craft production as an way to improve their livelihood, although many struggled to earn a living by farming. "We offer them the chance to make souvenirs that would sell for about $1, quite an acceptable price for tourists," Hien said. "However, villagers still hesitate to do so as they are not used to marketing." Australian tour operator Mark Wyndham said Bho Hoong Village was one of the most popular sites for tourists in the central region. "The village preserves the original lifestyle of hill tribe villagers. Foreigners who come to explore the region on adventurous trips love it. It's also very accessible because the province built infrastructure in mountainous areas," Wyndham said. He emphasised that the company designed the community-based tourism site specifically for small groups. "Five traditional Co Tu thatch-roofed houses are reserved for 20 visitors at a time. We do not want to disturb the village with too many visitors. It would change their lifestyle and culture," he explained. However, Wyndham made the same observation as Hien. "We suggested villagers of Bho Hoong create crafts for sale so they could improve their incomes. But I have not seen any development in the past four years. They seem to prefer hunting and farming forestry products," he said.
Cuisine, special wine
Briu Thien, 60, heads the seven-member cooking team, preparing traditional food for tourists. "We get more money from cooking for tourists," he said. "We offer them our best food, introducing them to dishes we have eaten for generations." A typical meal includes com lam (rice cooked in a bamboo tube) and grilled pork and chicken, served together with wild vegetables and bamboo shoots. In April, tourists can taste Ta Vat wine, a unique drink made from fermented resin extracted from ta vat fruit in the forest. It's a potent brew: guide Pai estimated that visitors would get drunk on 1.5 litres.
Still struggling
Despite the extra income earned from tourism, villagers still struggle with poverty. Briu Dom, head of the village, said that half the village's population earns VND300,000 ($14) monthly from farming cassava and rice on the sloping hills. Many must supplement this income by cutting down trees and hunting wild animals.
Briu Da, 70, shows off the collection of wild boar skulls in his kitchen, the main products of his youthful hunting endeavors. "I started hunting when I was 18. I was one of eight children and we lived on hunting, along with farming forestry products and logging. A wild boar could bring me VND5 to 7 million ($240-340) – enough to feed the whole family," Briu Da recalled. The 70-year-old war invalid said he and his wife received VND3.5 million ($166) from the state's monthly allowance. In addition, he could earn VND1 million ($47) from making bamboo baskets and food trays.
Challenges and support
Poor infrastructure along Highway 14G, which connects Da Nang and Quang Nam's mountainous districts of Dong Giang and Tay Giang, limits access to these locations. Only two vans carry commuters from Da Nang to Dong Giang and Tay Giang, a three-hour trip. However, the community-based tourism villages of Bho Hoong and Dhroong have received support from foreign organisations, such as the Luxembourg government, which provided $1.3 million to promote tourism in mountainous areas along the former Ho Chi Minh Trail. "Village households received training in tourism services, speaking English, cooking and customer care," said Nguyen Thi Huyen, ILO Country Officer for Viet Nam and the ILO's National Project Coordinator of Sustainable Tourism Projects. "The project has improved local people's incomes. Most locals made a living through farming, but now they have another means of making money after the harvest time." Source VNS / 2014
I'm Riding A $450 Motorcycle Across Vietnam
Buying a $450 motorcycle to ride across a communist country devastated by war with your own sounds like a great idea, right? I thought so. Here's how you can do it too. I've been traveling the world for the last seven months or so. It's been amazing. But one thing that I've missed most about life back in LA was riding my motorcycle. Every. Single. Day. Riding in the States isn't terribly popular. You can only lane-split legally in California. Insurance companies treat riding as a hobby and charge out-the-ass for motorcycle policies. Car drivers are often prejudiced against us. Overall, it's barely accepted. Which is a shame, because motorcycles make way more sense for personal transportation than a giant, heavy, inefficient car ever will. That's not case in Vietnam, however — where the 37 million registered motorcycles (or "motorbikes," as they're called in much of Asia) zipping around have already exceeded 2020 planning. Riding motorbikes is a part of daily life. Nearly everyone has one. Entire families of four will ride on one scooter. Local people transport truckloads of goods strapped to the back of their bikes. It's amazing. Riding here is is an elegant, yet frantic dance as thousands of bikes weave in-and-out of each lane with little regard for those around. Bumps are frequent; seldom acknowledged. Horns are used liberally as can be imagined. Put simply: it's insane. Besides reveling in the moto madness, there are a ton of other reasons to travel to Vietnam. The landscapes are beautiful as they are diverse. River deltas define the south. Pine forests blanket the central highlands. The easternmost extremities of the Himalayas carve through the north. Lush jungles line the coast. The people are warm and welcoming. The food is delicious. And everything is cheap. Like fifteen cents-a-beer cheap. Vietnam is an adventurer's haven too. There's world-class rock climbing. Diving. Kiteboarding. Kayaking. Trekking. Son Doong — the world's largest discovered cave is here too. (I'll be exploring Son Doong's smaller sister, Hang En in a few weeks!) Since I was already in the region, there was no way I could not explore Vietnam — so after a three week stint in Cambodia, I jumped on a night bus to Saigon. My mission: Explore Vietnam from the south to the north, traveling through how the locals do. And that meant getting a bike.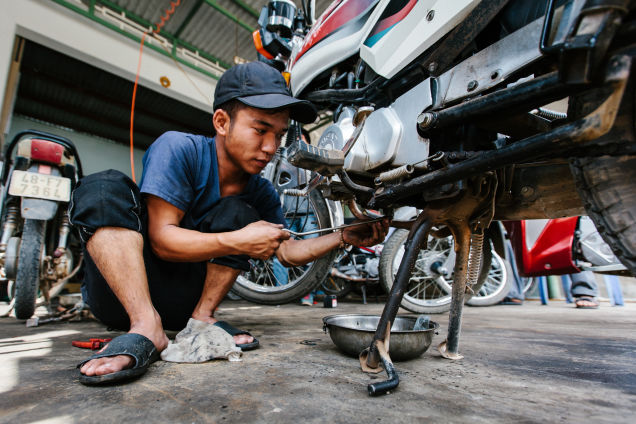 THE BIKE
If you want to buy a manual motorcycle with a clutch, there aren't a lot of options around. The market is mostly saturated with scooters; to own or ride any bike greater than 125cc, you've gotta be a member of a motorcycle club. That leaves you with a few options:
Win: The Win. Most of these 100cc or 110cc bikes are badged as Hondas. In reality, the majority of them are Chinese knockoffs (genuine Honda Wins haven't been manufactured since the early 2000s); they've been yo-yo'd up and down the coast and abused by backpackers for tens of thousands of kilometers.
Oftentimes you'll see claims that the "engines have just been rebuilt!" Those claims are bullshit. If the engine has been rebuilt, it was likely with shitty used parts, which won't actually increase the bike's performance or reliability. Don't pay more than $250 for one; expect to spend a decent amount of time in garages for repairs along the way.
The exception is the Sufat Win. Sufat Wins are made in Vietnam using the Honda designs. If you can find one, chances are it will be relatively new; a lot more dependable than the Chinese versions. I picked up a 2014 model in Ho Chi Minh City for $450 from a company called Flamingo Travel. It had less than 9,000km on it; it runs great. The speedometer even works! Expect to get about 40km from a liter of gasoline.
MINSK: The Minsks are old, two-stroke, 125cc Russian bikes. They are more powerful, but significantly less fuel efficient and notoriously less dependable than the Wins. They're harder to find too. While I haven't personally ridden one, I've heard that they're fun, if you don't mind giving them the extra love. Expect to pay around $400 for one.
SUSUKI GN: The GN 125 is one of the more rare backpacker bikes roaming around Vietnam; they're also one of the most expensive. While the ride would undoubtedly be nicer than that of the Win, expect to pay between $600-$700, if you can find one.
The easiest way to find a bike is simply by walking around the backpacking districts in Ho Chi Minh City or Hanoi — "bike for sale" fliers are everywhere. You can also try your luck on Craigslist. Once you find a bike that you're interested in, take it for a test drive and check everything over: Starter (electric and kick), throttle, brakes, lights, turn signals, horn (you'll need it!) Make sure that the engine runs smoothly and that it shifts well too. If anything seems off, or if your gut's against it, don't buy it! Bikes are everywhere; it shouldn't be hard to find one that is to your liking. The opposite holds true as well. If you come across a bike that you do like, grab it. Chances are that if you don't, someone else will by the following day. Before you purchase the bike, be sure that the seller has a "blue card," which is the registration card, in the event that you need to flash it to an official; when it's time for you to sell the bike after you're done, potential buyers will want the blue card too.
Bike Accessories
Lock: Pick up a chain and padlock from a hardware store. Anytime you have to park your bike where there's not an attendant present, you'll want to lock it up.
Bungee Cords: Most bikes will come with a large rack on the back for hauling your backpack. Many of these will also come with bungee cords. If your bike doesn't, you can pick a couple up for less than a dollar.
Poncho/Trash Bag: When the rains come, you'll want to keep your stuff dry, so wrap your pack in a poncho or large trash bag before strapping it down.
Riding in Vietnam is absolutely insane; just because the locals ride in flip flops doesn't mean that you should to. Protect yourself from road rash and worse. If you're traveling to Vietnam directly from home and already own riding gear, bring it. Stuff that will properly protect you in the event of a crash is hard to come by once you're here. I had a jacket, pants, gloves, and boots brought over from the states; picked my helmet up locally.
Helmet: One thing that Vietnam gets right is a mandatory helmet law – for riders and passengers. Get one and wear it. Where they miss the mark is for any sort of helmet safety standards and regulations. Bicycle helmets are for bicycles. Most helmets sold in Vietnam merely present the illusion of safety. If you got into a crash, I doubt they'd offer much of anything in the way of protection. Short of bringing an ECE 22.05 certified helmet from home, your best bet is to pickup an Andes helmet from a showroom. Andes helmets are a step in the right direction towards offering a decent level of protection, but they won't break the bank. You should be able to find one for about $100. If you really care about the well-being of your brains (and you should!), you can pick up an American or European safety certified helmet from a motorcycle dealership, but these are far and few between. I got an open-face Italian Project for Safety helmet from Saigon Scooters. It was expensive ($225) but I value my cognitive function.
Gloves: If you're buying a nice helmet from a shop, chances are you can find some decent riding gloves there too. Look for a pair that's lightweight but protective. Or bring some from home.
Boots: Flip flops are not boots. Flip flops will not protect your feet from anything. So don't wear them while riding. A pair of low-cut dedicated riding boots like the Alpinestars CR-4 Gore-Tex XCR's ($200) will offer enough protection for riding, but are dexterous enough for hiking. If you don't opt for dedicated riding shoes, at the very least, wear a pair of sturdy, high-top boots.
Jacket: Vietnam's climate varies drastically from south to north. Even during winter, it can get very hot in the south. The north is generally cooler and wetter, so a lightweight, waterproof/breathable riding jacket with a removable insulating layer is ideal. I'm using the Alpinestars Scion 2L ($219).
Pants: Given the weather conditions, lightweight, breathable riding pants are ideal too. Look for something with padded hips and knee protection. I'm using the Alpinestars Switch Drystar Pants ($209). If you'd rather just wear shorts, a tank top, and flip flops while riding "cuz it's hot and it's 'Nam, bro!" don't complain when you end up looking like this guy.
Other Important Stuff
Passport: This one's obvious. If you don't have it, get it. It's really not that hard. Vietnam Visa: You won't be getting in without one of these! If you're flying directly into 'Nam, you can apply for a visa-on-arrival online. If entering overland from Cambodia or Laos, you can work with a local travel agent to get hooked up. The process should take about a day; a one-month visa will set you back $60. Travel Insurance: Oftentimes your health care plan won't cover incidents abroad, so it's a good idea to get a travel insurance policy, especially if you're going to be adventuring. My go-to provider is World Nomads. They have two different levels of coverage; the more extreme policy covers anything from mountaineering to motorcycling to base jumping — they literally have all your bases covered.
International Driver's License: At the time of writing, Vietnam doesn't recognize international drivers' licenses, so getting one isn't necessary for this part of your trip. If you're traveling through, it's unlikely that you'll be able to get a Vietnam license either. In the event that you do get pulled over while riding, just bribe the cop (more on that later.)
When To Go
The best time to do a motorcycle tour of Vietnam is during the dry season (our winter and spring) between the months of November and April. Any other time, it will likely be raining like crazy, streets will flood, and roads will wash out. You don't want that, do you?
Choose A Direction
Vietnam is a very tall, skinny country. As such, you'll either travel from South to North (Ho Chi Minh City to Hanoi) or vice versa. Or, if you're short on time, just pick up a section in-between. Though the south of Vietnam is interesting and has some cool stuff (like the Mekong Delta; one of the largest floating markets in Southeast Asia) the north is arguably more beautiful with its rice-covered, stepped mountains. Many choose to start out in the north; then head south, but I've opted for the opposite. Figure as I travel upward, it will get more and more beautiful. Seemed like a better progression to me.
How Much Time Do You Need?
A month (or more) would be ideal, in order to buy a bike, ride it everywhere; really immerse yourself in the culture and the land. If you're short on time, you could either a) move fast or b) divide and conquer. That is, choose one section of the country to focus on.
When Trouble Comes Knocking
You'll likely run into some problems on the road. Here's how to avoid them as best as possible.
Motorcycle Maintenance
During the course of your ride, you'll need to make numerous stops at various motorcycle shops along the way. Look for signs that say "Xe May," or have the Honda Motorcycles logo on the sign. The shop mechanics are very adept; should be able to fix just about anything that could go wrong with your bike, on the spot. And best of all, the shops are everywhere. You'll want to change your bike's oil every 1,000 kilometers (takes five minutes; costs about 100,000 VN Dong – or $5) and oil the chain every 300 kilometers or so (this will often be free.) It's also a good idea to check your tire pressure whenever you get oil changes too.
Traffic Police
Vietnam traffic cops dress in tan and look like Super Troopers. You'll often find them manning checkpoints while passing through towns or cities. Wear your helmet, don't speed, stay to the right in the motorcycle lane (on big highways, center and left lanes are reserved for cars, trucks, and busses); they should leave you alone. If you do happen to get pulled over, don't sweat it, they'll just ask you for a bribe. Here's a little trick: only keep a 100,000 Dong ($4.65) bill in your wallet at a time (and some smaller 1,000 and 2,000 Dong bills as well, to make it believable.) When they ask for more, you can pull out your wallet, pretend to count, and then look surprised when you come short. The cop will likely grab your wallet, search through it, see that it's empty, take the 100,000 bill, leave you the rest, and send you on your way! Trust me, it works.
When It's Over
So, you just had the ride of your lifetime. What to do next? Sell your bike in Hanoi or Ho Chi Minh and recoup that hard-earned cash. How you gonna do that? Make flyers; stick them up around the backpacking districts. List your bike on Craigslist. Walk around with a sign on your shirt saying, "motorcycle for sell." Whatever you do, don't be like, "Yeah I gotta sell my bike before I leave tomorrow" because people will force you to accept a lowball offer. Play it cool.
And that's how you do it!
I just kicked off my own journey, so follow along for my weekly updates on the "Vietnam Motorcycle Diaries." Keep the rubber side down! About the Author: Chris Brinlee Jr. is an adventurer and storyteller who is currently traveling around the world. Follow his journey on Instagram: @chrisbrinleejr. Source: IndefinitelyWild.com
BEST DRONE VIDEOS of VIETNAM 4K | THE WHOLE COUNTRY by MOTORBIKE
VIETNAM – DREAM TRIP MOVIE
For the 60th birthday of my father I promised him to bring him to Vietnam. We spent 8 days in Vietnam in different cities: Saigon, Hanoi, Halong Bay, and Sapa. We met so many amazing people there. Here is the movie about this amazing trip, I hope this movie will be able to make you travel like we did.
Directed by: JC Pieri
THE ROAD STORY VIETNAM
In September 2014 my brother and me travelled Vietnam, 45 days amazing adventures.
Set off on a 1650Km north to south journey: capturing the best wonders of Vietnam: Hanoi ancient quarter, the breathtaking Halong Bay, the claustrophobic caves in Trang An, the glamorous fabric merchants in Hoi An, the secret temples inside the marble mountain in Da Nang, the historical old capital Hue, the wet and tropical mekong delta and the white sandy beaches at Phu Quoc.
Everyone who has visited Ho Chi Minh City, Vietnam knows part of the magic (love it or hate it) is in the traffic. Ever since I first set foot in HCMC I have been captivated by the cities energy. Saigon is a city on the move unlike anything I have experienced before which I wanted to capture and share.
Short travel movie about Vietnam. Shot and edited by Janek Toomikas
Film Produced by Zoomations team: facebook.com/zoomations
Trieu Dinh Nam – Cinematography | Editor | Colorist.
facebook.com/trieudinhnam