MUI NE, PHAN THIET - VIETNAM'S PREMIER BEACH RESORT
The Socialist Republic of Vietnam is the easternmost country on the Indochina Peninsula in Southeast Asia with an estimated 100 million inhabitants. The country is bordered by China to the north, Laos to the northwest, Cambodia to the southwest, and the South China Sea to the east. Phan Thiet city is the capital of Binh Thuan province and Mui Ne is one of Phan Thiet city districts located 15 km northeast on the shore of South-China Sea. Mui Ne is the fastest developing resort in Vietnam and premier beach resort.
Mui Ne was a small fishing village sparsely inhabited along the peaceful and quiet coast. Mui Ne described by the locals as the beach that is nestled in the middle of a coconut palm forest. Around 300 years ago fishermen from neighboring areas settled here to fish and produce the nowadays world-famous fish sauce. Here you find no house number, no street name but a narrow road covered with beautiful white sand that cushions each footstep. Surrounded by thousands of lush green coconut palms, this coastal hideaway is exceptionally stunning with a deep blue ocean viewed on one side and vast golden sand dunes on the other. Mui Ne enjoys a unique combination of two lifestyles, coastal and desert. Tourism started in the area around 1990 as it was the best place in the world to witness an eclipse. Nowadays it's full of luxury resorts, hotels, restaurants, beach bars, shops and everything else required for a perfect holiday. Transportation options offering liveinmuine.com and we have a right vehicle for your journey. Whether you are requesting a ride to the HCM City, Saigon Tan Son Nhat airport, going to Nha Trang or Dalat the Liveinmuine.com is always ready to take you where you want to go. Liveinmuine.com operates a private and personal, door to door transfer and tour services in Phan Thiet Mui Ne, since 2008. More info about Mui Ne taxi transfers
TOP SIGHTSEEING SPOTS
Po Sha Inu tower is a derelict remainder of the ancient Cham culture that was built in the 8th century. Po Sah Inu towers is a group of remaining Cham towers of the ancient Champa Kingdom located in Ba Nai hill, 6km to the North-east of Phan Thiet city. These towers were first built to worship Shiva and princess Po Sah Inu.
Ta Cu Mountain located around 30 kilometers west of Phan Thiet. An aerial tram takes you most of the way to the largest reclining Buddha in Southeast Asia. Spectacular views from the top of the mountain. Reservations: Tacu mountain tours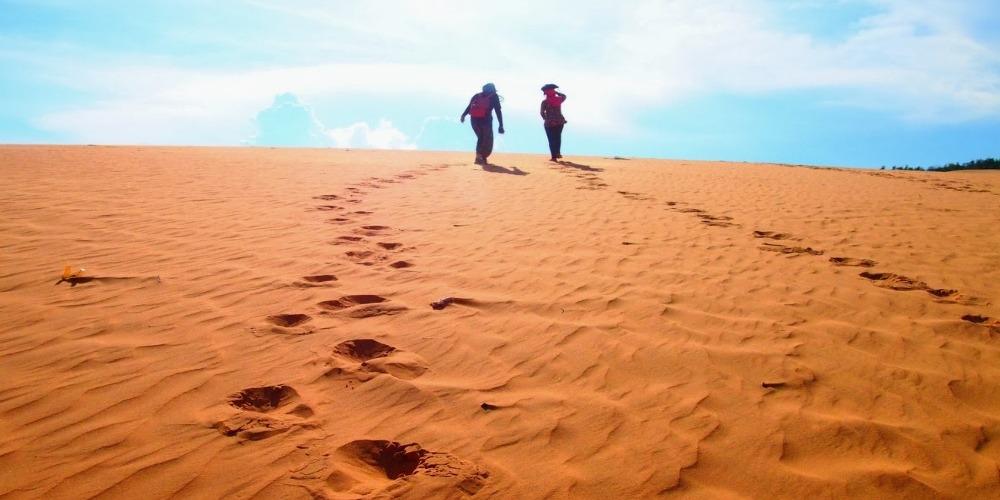 The famous Red Sand Dunes are located in Mui Ne on the main coastal road at the intersection with the four lanes 706 highway. The whole region is fairly sandy, with orange sand threatening to blow onto the coastal road in some spots. The red sand dunes that visitors visit are about 50ha (1/2km²) of open sand on a hillside.
White Sand Dunes located 24km north from the red dunes. They are much larger than the red dunes, extending up to 20 kilometers along the coast, and vendors offer dune buggies for rent to drive around the dunes. The deep blue lake below the entrance to the dunes and the dark green lotus plants on the shore provide stark contrasts to the white sand glistening in the sun, offering photographers delightfully starkly contrasting colors.
BINH CHAU hot springs. Binh Chau's hot springs are located near Vung Tau, 122 km from Phan Thiet, where the resort area has magnificent nature, mud baths, and mineral water pool. In special containers, it is possible to boil eggs and feed crocodiles. Address: Suoi nuoc noóng Binh Chau, Xuyen Moc, Ba Ria – Vung Tau. Website: http://saigonbinhchau.com/en
Around 30km south of Phan Thiet located Ke Ga lighthouse from the French era. If you're visiting Phan Thiet Mui Ne don't forget to visit the wildly beautiful beach of Ke Ga and its historic lighthouse. it's a great day trip and you can combine it with Ta Cu.
These cactus family fruits are commonly known in English as "dragon fruit", reflecting its vernacular Asian names. The names pitahaya and pitaya derive from Mexico, and pitaya roja in Central America and northern South America, possibly relating to pitahaya for names of tall cacti species with flowering fruit. In China, the fruit is referred to as huǒlóng guǒ (火龍果), literally 'fire dragon fruit'.
Phan Thiet Fish Sauce Factory. Phan Thiet is famous for its production of very high-quality fish sauce which is exported worldwide. Fish sauce or nuoc mâm is a dipping sauce which complements most Vietnamese meals to add a saltiness flavor.
New Fishermen Show is an interactive portrait of Kinh and Cham ethnics inspired by fishing village in Phan Thiet in 1762. This show unfolds the legend of a whale skeleton drifted to Phan Thiet sea. The body sacredly honored as South Sea General was worshiped at Van Thuy Tu temple by Phan Thiet people in their annual sea festival. The soul turned into a fisherman living with village people, supporting and saving the village men at sea. Source and reservations: Fishermen Show Seagull.vn
BEST HOTELS
5-STAR HOTELS
4-STAR HOTELS
3-STAR HOTELS